President Ferdinand R. Marcos Jr. on June 6, 2023 expressed confidence that the partnership between the Department of Agriculture (DA) and the Korea Agricultural Machinery Industry Cooperative (KAMICO) would boost the food production in the Philippines.
This, as Marcos witnessed the DA and KAMICO's signing of a memorandum of understanding (MOU) on cooperative partnership for agricultural machinery in a ceremony at Malacañan Palace in Manila.

The MOU's salient features include the establishment of a local agricultural machinery manufacturing cluster such as assembly production line, research and development of agricultural machinery technology, workforce training on agricultural machinery technology and a grant of Official Development Assistance (ODA) to further explore potential projects.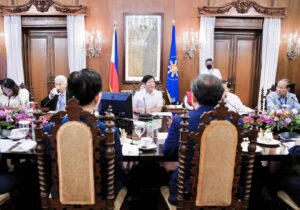 During the ceremonial signing, Marcos said the partnership on agricultural mechanization is vital to improve productivity and ensure food security in the country.
Acknowledging the partnership's importance to increase the rice supply, Marcos said the Rice Competitiveness Enhancement Fund (RCEF) would complement the mechanization initiatives.
"We all recognized very clearly the importance of mechanization for our country because we are trying to move the production, we are trying to make sure that at least the local supply for rice is sufficient and, of course, hopefully, also the other crops," Marcos, who concurrently serves as DA secretary, said.
"The key to all of this is mechanization and all of the things that we're trying to do. We have some programs to mechanize. We have the RCEF Program, in which is the collections from the tariffs on rice importations are then applied also to mechanize," he added.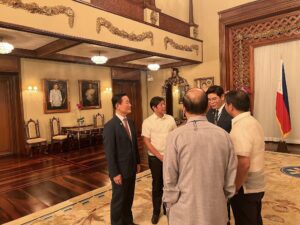 KAMICO said an initial investment of USD30 million would be made for the implementation of Phase 1 of the project.
The amount would be tripled in the second phase, KAMICO noted.
The project aims to ensure food self-sufficiency; transform the Philippines as a food exporting country; increase employment and farmers' income; establish infrastructure on agricultural mechanization and industrialization; and pursue technology transfer and production of specialized machinery.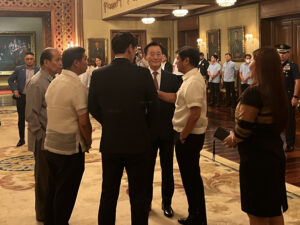 Present during the signing of MOU were DA Senior Undersecretary Domingo Panganiban, Philippine Center for Postharvest Development and Mechanization (PhilMech) director Dionisio Alvindia, Trade Secretary Alfredo Pascual, KAMICO chairperson Shin Gil Kim and KAMICO Director Si Min Yi, according to a Facebook post by state-run Radio Television Malacañang (RTVM).
The DA and KAMICO have already collaborated on various agricultural projects.
Among their completed projects are adaptability testing of a self-propelled Mechanical Elevating Work Platform for mango production operations, and technology performance verification and adaptation of a mechanized onion production system.
Their ongoing projects include pilot adoption and pre-commercialization of PhilMech-KAMICO developed corn mill; technology advice and solutions from South Korea; and Agricultural Mechanization Design and Prototyping Center project.
KAMICO, established in 1962 and recognized by the Korean government, has more than 650 members and is a major player in the mechanization of Korea's agriculture sector.
KAMICO actively works in the global agricultural machinery industry by providing aid to developing countries, dispatching investment research groups to emerging markets overseas and conducting training for international customers.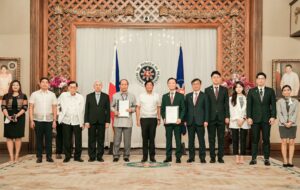 President Ferdinand R. Marcos Jr. poses for photo opportunity with the Department of Agriculture and the Korea Agricultural Machinery Industry Cooperative (KAMICO) officials after the signing of a memorandum of understanding on cooperative partnership for agricultural machinery at the Malacañan Palace on Tuesday (June 6, 2023).